| | | | |
| --- | --- | --- | --- |
| | Worshipping the Absurd Since 1993!! | | |
Letters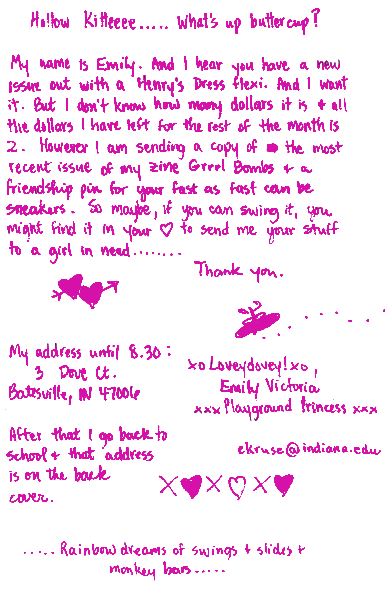 Dude! Happy b-day!
I'm not sure when your b-day is but I thought you would like this card. Cool Beans kicks ass! My favorite articles 1) Selling Sex in San Francisco - gave me a boner! 2) Cab Driver Stories - gave me a boner! 3) Little Princess - gave me a boner! Thanks for being so cool when I was wearing a "saggy diaper that leaks." Lets find you some more strong coffee!
Your friend,
Jerome
From: John & Jennifer Goldacker koolbeanz@olcafe.com
Organization: Kool Beanz
Hello Cool Beans!! (Great name!)
Next month my wife and I are opening a new coffeehouse called(you guessed it) "Kool Beanz"! We would be greatful, if you could please send any promo items (signed photos,posters,mags,etc). You could help us decorate, and we`ll help promote our artists.
Thank you very much!
Peace, "Java" John Goldacker
7 Poinsett Dr.
Cocoa Village,Fl. 32922
Dear Matt,
No big deal, really, but... My last name is spelled Aronen, not Aronin. Like I said, no big deal, but put yourself in my shoes. Imagine if my mom saw your magazine and there's my name spelled wrong. "Gasp!" she would shreik. "He's disowned the family!" How could I ever look her in the eye again? I don't think I could. Here's what I propose: You have to recall them. It's the only way. Bring them all back in and fix my name, apologize to your readers for the inconvenience and send them back out. I know it's a big pain in your ass, but I haven't been able to sleep ever since. I'm a mess, Matt! We can't let this go on like this!
Dan
Hey Matt!
You don't know me, my name is Princess Di Rod And Gun Club. I live in B. C. Canaduh and I read coolbeans #7. I was going to at least hook up with you earlier but I didn't have the high technology to achieve that. Anyways I enjoyed your zine, I ouldn't relate with the free plexie considering that I barely heard of the bands on it. I really enjoyed the article on the battle of Oakland includin the Black Panthers. This is the reason I write, I read a lot of zines up here, but non of them dealt with political issues like yours, so if you want to discuss political and punk and anarchist scenes in Canada please answer me.
PriDiRodAndGun@hotmail.com
FUCK WHITE SUPREMACY!