Cool Beans! #15 TRUCK TRUCK TRUCKIN issue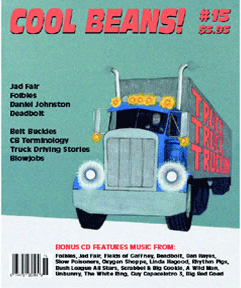 Special issue featuring:
Matt's Truck Driving Journal
Blowjobs - Bill Brown
Truck Driving Movies
Beltbuckles
CB Terminology
Trucker Date
Comics
News..?
A Readers Poll
Create Your Own TRUCK TRUCK TRUCKIN 8-Track
more!

Interviews with:
Jad Fair
Daniel Johnston (RIP)
Foibles
Deadbolt

Bonus TRUCK TRUCK TRUCKIN CD with:
Jad Fair - Phantom 309
Fields of Gaffney (Eric Gaffney from Sebadoh) - Pinball Machine
Deadbolt - Whereabouts Unknown (original)
Slow Poisoner - Chicken Truck
Linda Hagood (formerly Double-U & Smack Dab) - I Like to Drive My Truck (original)
Scrabbel & Big Cookie - The Last Stop (original)
The White Ring (aka Mono Pause) - The Ballad of Eunice Stone (original)
Unbunny - Little Pink Mack
Bush League All Stars - Lookin' At the World Through a Windshield
Dan Hayes - Me and My Truck (original)
Foibles - East Bound and Down / West Bound and Down
A Wild Man (aka Geoff Soule of fuck) - Shift (original)
Rhythm Pigs - Truck Drivin' Man
Oxygen Shoppe - Six Days on the Road
Guy Capacelatro 3 - White Line Fever
Big Red Goad (aka Jim Goad of Answer! Me) - Tombstone Every Mile

64 pages - half legal size (7 x 8.5) TRUCK TRUCK TRUCKIN cover by Bert (RIP)
---
Cool Beans #15 review from Zine World (RIP):
Matt Kelly is a zine legend, akin to Aaron Cometbus and Dishwasher Pete in my mind. In this issue, the Truck Truck Truckin edition, Kelly details his 2001 experiences learning how to drive -- and driving -- a big rig, getting more personal than usual. The bulk of the issue is made up of "My Time as a Truck Driver," a 29-page journal of his time behind the wheel. He touches on trucker culture, truck stops, Wisconsin, Waffle House, and CB lingo before moving on to more general zine fare. The interviews with Deadbolt, Jad Fair, and the Foibles also address trucking. A well-rounded read.

Here's what Aquarius Records (RIP) had to say about Cool Beans! #15:

COOL BEANS! #15 (Cool Beans) magazine
Our favorite f*cker, I mean, tr*cker, Matt "Cool Beans" Kelly is back with another issue of his fab 'zine. It's the Truck Truck Truckin issue, based in part on Matt's recent employment experience, though he's no longer roaming the open highway now, being back in Berkeley doing less drivin', more strivin'. So, this ish includes Matt's truck driving memoirs (July-November 2001), a CB lingo glossary, truck drawings, a trucker-themed belt buckle pictorial, and more. Being an indie-rock/punk 'zine, theres also of course some music-related interviews -- Deadbolt, Jad Fair, Daniel Johnston, Foibles -- but don't worry, most of the questions are about trucks and trucking. And it wouldn't be Cool Beans without the bonus cd, which this time features truckin' music from a bunch o' folks, including Slow Poisoners, Deadbolt, Rhythm Pigs, Unbunny, Big Red Goad, Foibles, Dan Hayes, Bush League All Stars, and others... Jad Fair does "Phantom 309"! AND Matt thoughtfully provides instructions for how best to dub the cd on to 8-track, for a more authentic trucker listening experience.